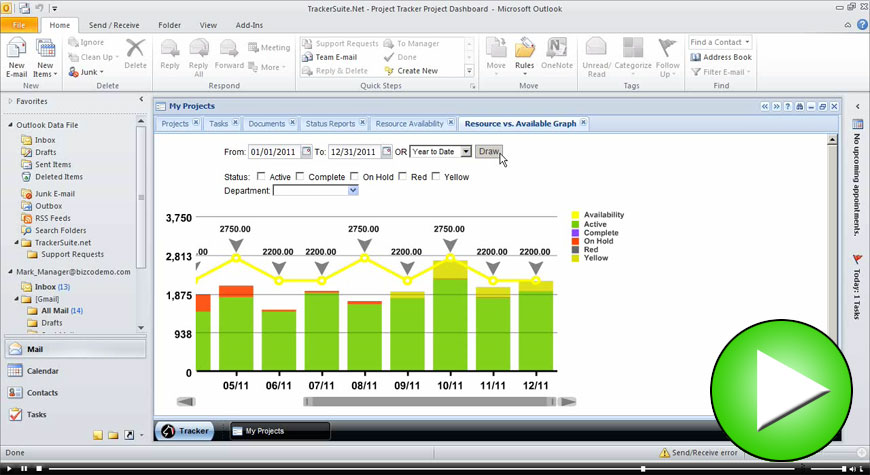 Outlook Project Management

Outlook project management software simplifies work for project managers and teams, helping them to deliver work on time and within budget. Extend your email platform to improve visibility, simplify management and streamline processes.
Get Organized
TrackerOffice provides an organizational listing of project team folders simplifies project portfolio management, allowing managers and administrators to easily review the status, completion dates and progress of projects across the enterprise.
Organize projects by defining project details, including project type, program cost center, manager, customer and more.
Streamlined workflow with the ability to plan meetings and store agendas and minutes in one centralized location.
The creation of both organizational and individual schedules allowing:

Detailed task descriptions for individuals, groups and departments.
High level project schedule summaries and status reports for executive planning.

Dashboard views that simplify task management.
Secure, centralized Outlook document management.
Establish Control
Control of projects at the management level by advancing, freezing or deactivating any project and/or task.
Measure results by comparing actual accomplishments to original plans by creating project baselines.
Share data with Microsoft Project- TrackerOffice provides bi-directional integration with Microsoft Project.
Instant comparison of project and task budgets with actual costs using the project budget, for informed decision-making.
Automate Workflow
Review task assignments across the organization from a single screen, for simpler calculation and distribution of task loads.
Simplified project team creation as well as effective task assignment and management with full integration of tasks and schedules with Free Time and Outlook Task Calendar functions.
Automatic notification of personnel via e-mail upon schedule changes and task assignments promotes a responsive and responsible work environment.
Document templates for schedules and objectives for simplified project development.